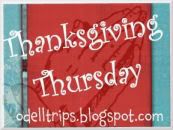 It's been a busy week, and there's a ton to be thankful for! I am thankful for....
My parents coming to town for the next 10 days! Yay!!!
Everything going well so far for the kids party this weekend! We got almost all the food yesterday and Mimi and I are working on the decorations tonight.

The great belated birthday dinner last night with Lani!
Having an awesome husband who doesn't mind that I've been in meetings all week and not home with him. Thanks babe!
Everyone who has entered the Cutest Multiples Contest at Multiples and More. All of your kids are so stinking cute!

A great weekend this past weekend, it was awesome!

Play along with Nicole at
What a Trip!