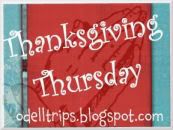 Has it really been a week already? I guess so.... This week I am thankful for....
An awesome visit with my sister and niece. I feel bad that it rained the entire time they were here, and that it is now raining in Chicago. But, I think that had a good time, and I know the kiddos had fun with them.

My super secret plan coming together and actually being able to surprise Scott on Saturday!

Everyone who helped make Saturday possible!

A relaxing, semi-three day weekend with Scott and the kiddos. I love three day weekends! Always have, always will!
The past three years and everything it has brought. I never thought that we would be where we are today and I am so glad that we are :) Thanks for the best three years ever Scott!
All the sweet comments here and on Facebook from everyone!
Finding $20 in my purse. I have no idea where it came from, but it was awesome to find.
Publix selling organic milk by the gallon. You make my life a little easier by doing that!
Lani picking up the slack for me while I was on my staycation!

Be sure to play along with Nicole at
What a Trip
!
Yesterday was pretty chill. I'm trying a new schedule with the kids and it seems to be working quite well! The only snag I've hit is that Jill wants to go to bed later (she didn't fall asleep until 8:30 last night), other than that it's awesome!
The rain in the afternoon is still pretty rough, and will be until September at least. We got hit pretty hard yesterday afternoon, to the point that we almost lost power. The rain is great though, honestly, it's saving us money because we don't have to water our grass, excuse me, savanna. Seriously, I'm considering buying a flag to attach to our dog so I can find her in the backyard. Hopefully this weekend the grass will dry out so Scott can cut it.
Other than that not much else is really going on over here. I get to pick up a baby gate today that I found on craigslist. Now if I could only find a big baby gate, then I'd be set! Here are some photos from the past two days....
And finally, HAPPY 2ND ANNIVERSARY DEBBIE AND DAVID!!!!!!!

Hope you have a great day!