>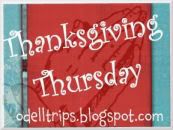 >
You didn't think I forgot Thanksgiving Thursday did you??? When you're done reading be sure to scroll down and check out my giveaway and then check out
Multiples and More's
blog party! Here we go, this week I am thankful for:
Scott being back at work! Oh steady paycheck how I've missed you!

Coupons from the grocery store for $15 off a purchase of $50! Yahoo!!!
Sign language! I am so glad that I've been teaching the kids this, it really helps out!
Whatever was wrong with the dishwasher has worked itself out and it did not require a handy man!

Skype! Jill and Aaron get to talk to my niece Lorren almost everyday and the fun conversation they had with Busia and DziaDzio has made my Mom think of getting a laptop with a built in camera so we can Skype all the time :)
All the sponsors we got for the blog party. We got some really awesome prizes!
Dawn having my back with the Meetup-Cleanup (sigh long story).

Play along with Elyse at
Following Him!