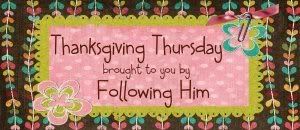 A lot to be thankful for this week, so let's get right to it. This week I am thankful for:
A great husband who is understanding, loving, caring and just flat out amazing. I cannot believe we have been together for 5 years!

Scott making his 2nd and 3rd degree with the Knights of Columbus. He will be making his 4th degree next month and I could not be more proud of him!
Awesome family around us, you guys are the best!
A great friend that shows me what the true meaning of strong woman is.

Two beautiful and entertaining children!
My daughter not swearing this week, at all! Yahoo!
Winn-Dixie having Starbucks ice cream buy one get one free. It's like you knew, seriously.
Modern Family. Seriously, you need to watch this show (go to Hulu.com and watch old episodes). I have tears every time I watch it, and last night, no joke, I almost needed the kids pampers, just sayin'.
That's all I got right now. Play along with Elyse at
Following Him
!