My favorite time of the week, Thanksgiving Thursday! Well most weeks it's my favorite anyway :) This week I am thankful for: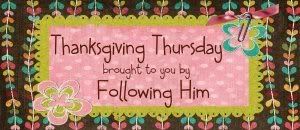 Scott busting his hump at work. Last week (Thanksgiving included) he had a few 12 hour days and only one day off. I cannot tell you how much I appreciate what he is doing for us, it just bites sometimes that we don't see him as much.
A terrific Thanksgiving with family and friends! Thank you to PawPaw for not covering the floor in turkey juice (and Dave for helping), Sue for making awesome bread stuffing (Beth for helping), Jenn for the insanely good green bean casserole, and Mimi for everything else (way too many things to list here). And thank you to everyone for leaving food for me to take home to Scott.

Swiffer wet jet. Did you know it can take out blue crayon?

My photo CD from Impressions in Time coming yesterday! Totally made my day and it was so hard to decide which ones to use for the Christmas card!

My parents, sister and niece being here in a few weeks. I'm so excited! This is the first Christmas they will be here and not in Chicago, and actually the first one in a while that I haven't been in Chicago.

The awesome birthday party set we got yesterday from Melissa and Doug to review for Multiples and More. It's the neatest thing! I think Scott and I played with it way more than the kiddos did, and they played with it a lot.
All of the Knights of Columbus and their wives that worked on the 4th degree exemplification this past weekend, it was beautiful! So proud of you Scott!
Jenn watching the kiddos all day, and I mean all day on Saturday.
Aaron finally drinking out of hard top sippy cups! Cue the choirs of angels, seriously! Happiest day of my life!

Play along with Elyse at Following Him!
*******************************************************