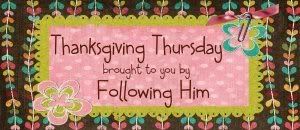 Only 8 days until Christmas (for reals...) and there is so much to be thankful for! This week I am thankful for:
Scott having two days off, in a row, this week. That hasn't happened since before Thanksgiving!

The beautiful apron that Scott bought me for when I bake. Now my pants won't have white hand prints :)
My parents, sister and niece being in town starting today! Cathy and Lorren haven't seen the kids since May, so they are definitely in for a big surprise!

Gospel music, turns out Jill is a big fan. We were at EPCOT at they have a Gospel choir (D'Vine Voices) that sings Christmas songs and Jill full on clapped and then threw her hands up in the air and started waving them around. Clearly the Spirit is in her.
Mimi and PawPaw and all that Mississippi State Cheese they ordered us! You don't know what you're missing...
Amazon Prime. Free 2 day shipping, how can you go wrong?!
My husband calling my sister in a Mickey Mouse voice to harass her about the weather. I guess it made her day, and really that's all that matters.
Play along with Elyse at
Following Him!