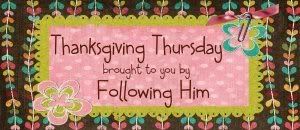 Even though I'm in the midst of staycation I still have a lot to be thankful for! This week I am thankful for:
Our staycation!!! So needed! Thanks again Mom and Dad for setting this up!
Scott and everything he does, especially letting me sleep in :)

My kiddos making me laugh!

Great family and awesome friends!
Stores like Ross where I can get a $68 shirt for $8. I think that is awesome!
My friend Jenn who always knows just what to say :)
Scott convincing me to join the Columbiette's. It's a great organization and I am so happy to be a part of it.
That's all I've got, but I'm also pre-writing this, so I'm sure there is much more to be added! Play along with Elyse at
Following Him!