Another fun filled week, much calmer than last week :)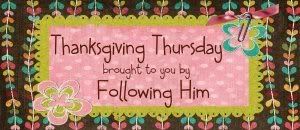 This week I am thankful for:
Scott and the fact that he lets me sleep in, AND makes me coffee on those mornings. Seriously awesome right???
My hilarious and entertaining children. They crack me up all the time. For example: Jill tried to ride our dog like a pony, now says "

Aaaaaaaa

-men" (with a head nod), and instantly says "Oh

mmmm

yum!" when she sees any meal. Aaron can say "Jilly" now and yells it at her all the time and has mastered the "ugh uh!" when he doesn't want something (even if it's a kiss).
The things that come out of my parents mouths. I need to write them all down because it may make me rich.
My

in laws

being awesome, as always :)
Sneaky Chef cookbooks. Seriously if you do not have them, buy them. Worth every penny!
Kind words from the big PR guy in New York this morning. You made my morning ;)
Really bad

karaoke

from a bunch of Canadians (who think they are Celine).
Not going to

Seaworld

yesterday. How tragic!
Having a friend that shares your love of Hugh Grant and

pinot

grigio

(in that order).
What are you thankful for? Play along with Elyse at Following Him!