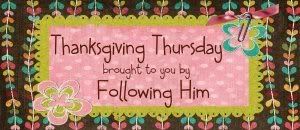 This week I am thankful for:
Scott's laugh, sense of humor and mad coffee making skills.

The hilarious things that come out of my kids mouths. Where do they come up with that stuff? "Mama shhhh! Sleep! Night nights!"
My parents finding the amazing freezer bags that we all fell in love with that were discontinued. My Mom has found google and HSN people, watch out!
My inlaws babysitting the kids a few times this week. While on that topic, I am also thankful the kids did not tie them up or anything.

An awesome day at EPCOT with the Lyons crew yesterday, and for the playgrounds they added for Flower and Garden! You my recycled plastic friends were a life saver!
Test Track not breaking down while Lani, Ploy and I rode it. The curse has been lifted? Maybe it only happens on Space Mountain?

March being frozen food month. It's like they knew I got a chest freezer this week!
Getting a chance to meet up with my nephew Alex who is in town for his spring break!

Play along with Elyse at
Following Him!