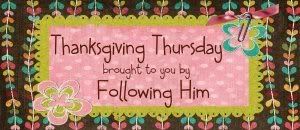 Happy Thanksgiving Thursday everyone! This week I am thankful for:
A husband that is everything I ever wanted and so much more! Did I tell you he surprised me with a rice cooker this week?

Two happy, healthy, hilarious babies!
My dear friend Jenn who has insured that whatever is haunting (seriously) her son stays at her house. LOL
My new chest freezer! Yahoo!!!! It's the little things in life people.
My parents who are just beyond awesome, and always inspiration for hilarious blog posts.
My in laws who are equally as awesome.
The white rhino that decided to not charge the safari vehicle yesterday (so serious it was thisclose to us).
Mr. Clean Magic Erasers. If you are a parent you know why I am thankful for those.

What are you thankful for? Play along with Elyse at
Following Him!