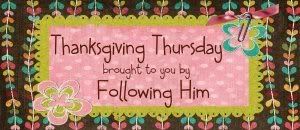 I don't know if
Elyse
is doing Thanksgiving Thursday this week (she has mono, not awesome), but I have a lot to be thankful for so here it goes! This week I'm thankful for:
A husband that makes me coffee every morning, stretches before he umps in front of me (well butt in front of me, he's got a cute one), cleans up the kitchen on Mother's Day, and sends me random text messages that say "I love you" just when I need to hear it.
Two kids that keep life interesting. No two days are ever the same with them and I'm kinda ok with that.

The past 10 days with my parents. It went by entirely to fast, but it's always great to have them here. I miss them already :(
A funny waiter at dinner last night, he made up for the snobby hostess. Quote of the night from him: "Can you tell I don't have kids, I just put that candle in front of your son! Here kid play with that open flame while I go run and grab you a steak knife..."
Uncle Michael sending the kids shirts from Hawaii, I had a hard time getting them away from them yesterday.

The fact that we haven't killed anything in our garden yet. This must be some kind of record.
What are you thankful for this week?