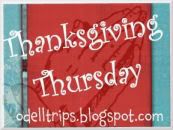 Another week is almost over, so it's time for Thanksgiving Thursday!
I am thankful for...
My annual pass to Disney! Honestly this is the best thing EVER! I love being able to just go in with the kids and hang out, especially Animal Kingdom (well except for yesterday).

The security manager at Animal Kingdom yesterday who totally made our day as we were leaving by calling us all show offs because we had to come with more than one baby.
Jill's smile and Aaron's laugh, it helps me keep my sanity sometimes.
Scott finally figuring out what the problem was in the drain in our bathtub, now I don't have to shower in ankle deep water...yuck.
Scott getting reservations at our favorite restaurant for Valentine's day! I'm so excited!!!
Nap time, no explanation needed here.
Scott thinking that I'm beautiful even if I have baby food in my hair and drool on my shoulder.
A great group of friends, an even greater family and a life without any regrets.
Our new external hard drive, that way I don't lose any photos if my computer crashes, which I'm sure will happen someday, especially since I have Vista.
I hope you are as thankful as I am!