>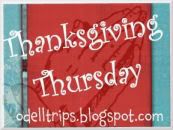 >
This week is just getting crazier and crazier, but here is my list of things to be thankful for this week...
I'm thankful...
1) That we are done eating the jarred meat! Oh my goodness, have you smelled this stuff?! I know why my son gagged the first time, it's gross!
2) That we have a new pastor and that he is settling in well within the parish. And hopefully he had a stuffy nose or something when he met us (read previous blogs to find out why).
3) That everything from today turned out ok and nothing was too serious. I'm not going to go into it, because I don't want anyone to be embarrassed, but I will say, next time you want us to come over just call silly! ;)
4) For Baby Einstein Dvd's. Oh what a welcomed 30 minutes! Especially the Language Nursery and Baby's First Sounds (the kids laugh almost every time something is in French).
5) For farmers markets! We did some quick math and it turns out we save almost half by buying there every Sunday. Plus it is so much better for the environment, and we're helping local growers. And I mean who has better sweet corn than Zellwood and better strawberries than Plant City???
6) For Anderson Cooper's coverage of the Inaugration. I mean, honestly, I was pretty into the whole event, but CNN choosing good old silver fox Cooper was just the icing on the cake!
7) That we now have a new President who is awesome! I won't say anymore, I promised not to.
8) For Nicole starting this whole Thanksgiving Thursday thing, it's awesome and makes you feel awesome after you do it!
I hope you have a lot to be thankful for too! Make sure you visit Nicole over at What a trip to see what she's thankful for!