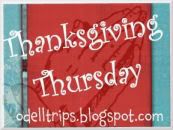 I can't believe another week has passed! Ahhh so here we go...
This week I am thankful for....
My babies being 9 months old...today! YAY!!! Oh the time is flying.
Having two digital cameras and a handycam to capture all the moments that seem to be flying by.
My parents being in town for a week!
Scott taking a week off from work to be with all of us while my parents are in town, he totally needs a vacation, even it's just local!
Aaron finally crawling!!! Well, at least crawling in front of me so I could see it, who really knows how long he has been crawling.
The Baby Sale at Target, enough said, it was awesome and is still going on until Saturday, and yes that was a shameless plug.
Another awesome Super Bowl party with great friends, great food, and great adult beverages!

The video that Nicole from What a trip put on her list this morning. I'm having trouble getting in on my post, no idea why, but check her out and watch the video of Gladys! It's worth it, I almost spit out my coffee I was laughing so hard!
I hope all of you have something to be thankful for too! Enjoy the rest of your week, the weekend is almost here!!!!