>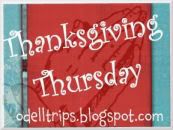 >
Time for another installment of Thanksgiving Thursday. This week, I am thankful for...
My parents being in town for the past week. It was an awesome time, especially when my Dad called that lady a b-yotch, only in my family.
Scott taking the week off to be with us and for taking an extra day today so I could go to my doctor's appointment in peace (it's all about the little things).

This Saturday...Melting Pot....d-lish! I think maybe I won't eat until then, because it is going to be so yummy that I have to eat it all.

Ghiradelli still having peppermint bark and for it being 50% off. 2 for 1!!!
The garlic mashed potatoes at Crystal Palace they were so yummy, and that's about all that was yummy.
My Dad being Scott's sponsor for R.C.I.A since I can't be.

Everyone who made Sunday's mass such a nice event. Especially the ushers who told the mean snow birds that the word "reserved" means you can't sit there.
Lani's family getting over the plague that has swept their home and that it has not (knock on wood) hit our home.

That's all I can think of right now, I'm super tired, it's been a long week. I think tomorrow is going to be a regroup day. Hope you have had a great week and have had tons of things to be thankful for!