>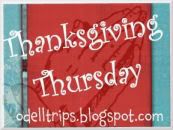 >
I would say this week has flown by, but no not really. I wonder why that is? Anyway, I am thankful for....
The Swifer wetjet I got. I swore up and down I would never ever buy one and I would stick with my mop and bucket, but then I had two kids that started crawling and yeah, I'm not pulling out the mop and bucket everyday.
Gerber Graduate snacks. My kids love them, and I'm thankful that gives me 15 minutes of silence. :)
All the cards and gifts for the kids on Valentine's day! They loved all of it!
My Valentine's date with my honey. It was a really good night, and super yummy! I think I may be able to live off of Melting Pot's cheese and chocolate for literally the rest of my life. OH and they gave us a gift bag that had a bar of their white chocolate for fondue in it, it may just tempt me to invest in a fondue pot for the house. May, not probably, just may.
Good weather yesterday at the park and April's mom being there as an extra set of hands.
Tax season. I know, right? We filed our return on Saturday and all I have to say is woo hoo!
And on a side note happy birthday to our friend Tracy! Hope it's a great day! And I hope you have a totally fabulous day too!