>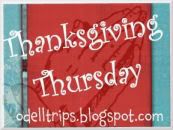 >
Is it Thursday already??? Ok, here it goes...I'm thankful for....
My new coffee pot, it has a strong brew button which has to be the best invention on a coffee pot I have ever seen. I personally think it was made for parents with multiples, but that's just me.
SITS Spring Fling. What a great way to a)promote your blog and b) win really cool stuff, like, I don't know a Dooney and Burke purse. (Thanks again Sarah!)
Surprises for the babies! Thanks Mimi and PawPaw for the box of books for the kids. One is actually a sing a long book in sign language, I have some homework to do. I have a feeling I will love it though!
Luna Bars. They are perfect for breakfast, seriously and they are 70% organic which makes them even better. I personally love Iced Oatmeal and Chocolate Peppermint Stick.
Those coupons that come out at the check out. If you don't shop somewhere that does this, you're missing out! It's the best when I buy a ton of baby food and sheets of these coupons come flying out. You are slick Winn-Dixie and Sweetbay, it does keep me coming back.
All the new and exciting things the kids are doing! Jill is getting better, and faster, with her walking with the push toy. Aaron is getting faster with his cruising around the playard and has another tooth coming in. They also clap along to "Are you happy and you know it". It's amazing to watch them discover new things and I can't wait to see what else they do!
For having my in laws right up the road. You guys totally saved my butt on Tuesday night and I really appreciate it.
For Lani, she's a great friend and I can't wait to tell you what's up our sleeve!
My wonderful husband Scott. Thanks for being understanding, patient and just awesome!
Play along with Nicole at
What a trip!