>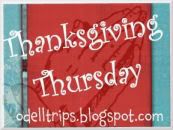 >
I know I say it every week, but where did the time go??? This week I am thankful for...
Friday being tomorrow and getting to share the big news. I'm not a very good secret keeper, and I am impressed that I have held out this long.
Awesome weather, even though the pollen is out of control. It hasn't been too hot down here, which is lovely. Yay for spring!
My kids and all that they do. Aaron had me laughing so hard yesterday and it made my afternoon. I love that they can change my whole day!
My Sara Snow book coming in yesterday! I have something new to read while my photos load on Facebook, Myspace and here!
Scott for being understanding during this crazy time (again can't wait until tomorrow!!!).

Health and the power of prayer. If you are so inclined, please visit MckMama and pray for her little boy Stellan.
I know I wasn't going to say it this week, but my coffee pot and the local Starbucks have had several visits from me this week, so thank you for being my caffeine boost at any given time!
Davy Jones. Even though we didn't get to see him, thank you for being at EPCOT because your fans gave me, Scott and Lani hours worth of conversation!
Signing Time. If you have kids, I totally recommend these! Jill smiles the second she hears "Hi, I'm Rachel!" Plus, it makes it easy for me to learn too!
Maria Shriver following me, yes me, on Twitter. I know it's probably some assistant who clicked me, but none the less, Maria Shriver is following me and I think that's awesome!
Hope you have a lot to be thankful for this week! Play along with Nicole at
What a trip!