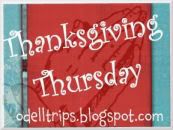 Well there's a lot to be thankful for today, so let's get right into it! I'm thankful for...
My parents deciding that one more kid wasn't so crazy! See, 26 years later and I'm still keeping you young! You're welcome :)
The awesome birthday I had today with my husband and the kids at Magic Kingdom!
Disney giving annual

passholders

gift cards instead of a day free (yahoo $75!) for their birthday!
Peter Pan giving the kids an extra special magical moment! He totally sat and played with the kids for like 5 minutes, it was awesome!
The dancer at the parade that stopped and talked to the kids (in the middle of the parade!). You are cool lady in the yellow dress!
All the birthday wishes from everyone today! You all are so sweet!
The wonderful gifts I got today! Most especially the Bryan Adams

CD's

and photo printer from my darling Scott (don't laugh about the CD he rocks!).
The bottle of Barefoot Chardonnay that Lani and I had the other night. Wine giggles are the best!
My parents coming down here in like 8 days! They should move here right? I think so!
Like I said in my list today was awesome at Magic Kingdom! Disney is doing this thing this year where you can go in on your birthday for free, but if you have an annual pass you can get a gift card,
fastpass
thingy or free admission next year on your birthday. Yeah we went with the gift card, for sure. I got the kids some cute t-shirts (organic too, go Disney!) and one for myself. Yup, that came to $74.50. But anyway, we took the kids on Snow White, It's a Small World, Cinderella's Carousel, and The Laugh Floor. Plus the kids got to meet Peter Pan and all the citizens of Main Street! Peter Pan spent like 5 minutes with them just playing and making them laugh. That totally made my day! It's cheesy but there is nothing like watching something special happen to your kids at such a big place like Disney. Even though I used to work there and do know that they do this, a lot, it's still awesome! Then we watched the parade, Snow White waved at the kids, so did Donald, Dale, a ton of the dancers and Ariel. One of the dancers even stopped and talked to the kids for a minute, yeah during the parade! Here's some photos from the day, I'm waiting on the video to upload, it's taking longer than normal so I will post it tomorrow. Hope you had an awesome day!
Scott and Jilly waiting to go on Snow White
Me and Aaron waiting to go on Snow White
Me and the kids on Cinderella's Carousel
Aaron and I on It's a Small World
Jill and Scott on It's a Small World
Peter Pan, Aaron and Jill
How sweet is this?
Thanks Peter!
All tuckered out
Me and the kiddos waiting for the parade