>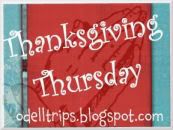 >
Another week down and we're that much closer to the (pause for giant sigh) first birthday)....
Here it goes, this week I am thankful for....
The great response we are getting on the Multiples and More site. If you haven't been yet, check it out, it's pretty awesome, and I'm not just saying that because I'm one of the founders.
My husband being the snake wrangler that he is. Granted he didn't actually catch the snake, but he found out what kind it was, not like that put me at ease, but it's good information to have!
The snake being of the non-venomous variety. Thank you Mr. Snake, now go scare away all those other creatures I don't like!
My new phone! I'm still getting used to it, but it's awesome, and makes me feel like a big kid!
The support that Scott is getting for R.C.I.A. This is his last real week before he makes his sacraments and I couldn't be happier for him! This is such a huge step and I'm so thankful that he wants to share this with me and the kids!
Lani and all she has done this week! Thanks for being an awesome partner!
Cheryl from

Twinfatuation

for doing such an awesome interview and for sending me a signed copy of

Twinspiration

as well! Scott takes full credit for that by the way...
Play along with Nicole at
What a Trip
!