>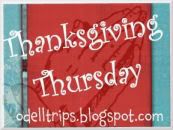 >
Even though it was a not so great week, there is still a lot to be thankful for! So this week I am thankful for.....
My husband and all that he does. It was a rough week for him and I know sometimes he wonders if he made the right decision, or if he is being selfish, but it was something that had to be done. I'm not standing behind him on this decision, I'm standing next to him.

Scott getting a second interview right away, that was awesome.
Our visitors for the week! It's been a long time since we got to visit with Sandi, Michael and Kaitlyn so it's been great having them in town!
Our new baby gate!!! It is finally up and we don't have to use the zip tied kitchen chairs anymore :) Thanks Busia and DziaDzio!
The great support of our family, without all of you this week would have been a lot harder than it already was.
Having two great kids! Not once did they wipe drool on Scott's pants before he left for his interview!
What appears to be a break in the rain today. Not that I don't mind the rain, it's just just...gosh so dreary :(
Friends that make you laugh when you need a good laugh.