>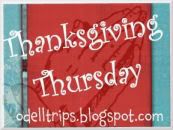 >
It's been a fairly busy week this week, so naturally there is a ton to be thankful for! This week, I am thankful for...
Scott and all that he does. Fingers crossed that he gets a call from someone he has sent a resume to!
A great visit with Sandi, Michael and Kaitlyn!

All the American Girl/Bitty Baby furniture that Kaitlyn gave to Jill. And when I say all, I mean open the catalog, point, and we probably have it now. :)

Michael riding Manta with me, so I wouldn't chicken out when I got to the top :)
Mimi and PawPaw treating us to all the awesome dinners over the past week and a half. Most especially last night at Maggiano's!

Mimi and PawPaw letting us take the leftovers from Maggiano's :) Their food is awesome at the restaurant, but it always WAY better the next day!
Jill's new Lion King CD. As Cat told me a few weeks ago, my children are apparently South African, so this CD should be a welcomed gift to them! Thanks Mimi!
The new books the kiddos got from Busia and DziaDzio! I may have to install bookshelves into the walls to store all of the books they have, but that's always a good thing!
Nilla wafers! You are a savior in public places! Most especially restaraunts that take their time bringing out the kiddos food.
The rain this morning, it let us all sleep in a little. Well I got to sleep in a lot, but everyone else slept in too.
Scott allowing me to sleep an extra hour this morning :)
All of Lani's help while I've had family in town. You're the best!
Kelly from GOMOTT finding all those awesome prizes for the raffle (some of which we won! Yahoo!).
My new Seaworld pass (I may have mentioned this last week?). Thanks Mimi and PawPaw!
Anything else I forgot to mention that happened this week. We are truly lucky to have what we have.