>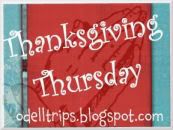 >
Here it is, what you've been waiting for...this week I am thankful for....
An amazing husband who lets me sleep in, makes me coffee (and breakfast this morning!) and lets me go to really awesome concerts!
Lani taking me to Dave Matthews last night. Check out her blog for pics from where we were sitting, and if you want to see awesome photos (no offense Lani) go to Melissa's blog.

My kiddos having that ability to make me crack up laughing at any given time.

Mimi and PawPaw giving the kiddos an awesome TV which they absolutely love!
Our great support system that is around us.
Scott starting work soon...yahoo!!!
That's all I can think of at the moment, sorry I'm still pretty tired. I'm not as young as I once was haha! Play along at
Following Him
!