>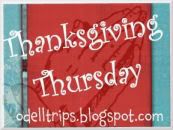 >
A lot going on this week, so therefore a lot to be thankful for. I am thankful for.....
Scott starting his new job! YAHOO!!!

A great new place to play with the kids and for the MoM that found it for us.
Connecting with long lost relatives that I never knew of.

Mimi's ancestry.com account that helped me find the above mentioned relatives.
Aaron finally saying "ball".

Weelicious.com they have awesome kid friendly recipes that are super yummy for adults too :)
Everyone around us that supports us
My kiddos, even though they have decided to officially give up their morning nap.

Be sure to play along with Elyse at
Following Him
.