Yay for Thanksgiving Thursday!!!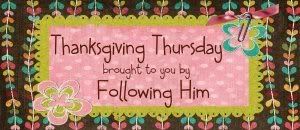 This week I am thankful for:
Target shopping sprees with Mimi!
Jillian Michaels 30 day shred, I just got it today and cannot wait to try it! I've heard so many good things!
Scott getting the shift that we wanted! Always good to have someone on the inside, right?
Being able to get my hair done, FINALLY this weekend!
The awesome support that we have around us!
The huge success of the blog party and for all the sponsors and fellow MoM's and Dad's that participated!
My brother and sister making it into town safely!
Reconnecting with long lost family. It's so great to learn about everyone that I didn't know about!
Play along with Elyse at
Following Him
!