Gobble Gobble!!! Happy Thanksgiving everyone!!! It's time for Thanksgiving Thursday, the Turkey Day edition! I am thankful for: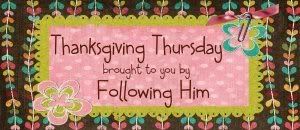 My wonderful husband Scott! It's been a pretty rough year (hasn't it been for all it seems?) and through it all he has been the rock for us and by far has sacrificed the most for us. I love you and thank you for everything you have done!
My kiddos! I am so thankful that they are healthy (minus the plague from a few weeks ago) happy and entertaining to say the least!

My parents! To say I grew up lucky is an understatement. I had the best of everything growing up and still do. I am thankful for all the sacrifices you made so we could all have the best in life!
Scott's parents! You guys are the best in laws I could ask for! I truly feel like a part of the family and I appreciate everything you have done for us over the years! I don't know if there are enough chocolate chips in the world to show you how thankful I am :)
My brothers and sisters (including brother/sister in laws)! Even though you guys picked on me all the time (actually you still do...hmmm) I am so thankful to have all 5 of you in my life, you're the best siblings a gal could ask for!
Great friends! I truly have some of the best friends around, you know the kind that would bail you out of jail at 3 in the morning, and the ones that would be right there with you going "God that was awesome!".

A great business partner! Lani also falls into the previous friend category (I will not say which part of that category), and I am so lucky to have her as a part of Multiples and More! She is by far the more creative one and is always more willing to take a risk than I am. Without her I don't know where the site would be.
The Wiggles, seriously! How else do you think I got all that stuff done yesterday??? ;)
From my family to yours have a very happy, healthy and joyous Thanksgiving!