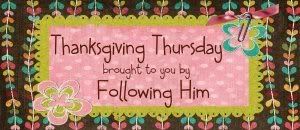 This week I am thankful for:
My HILARIOUS kiddos! They sure do keep things interesting!
A fantastic Thanksgiving potluck with my fellow GOMOTTers. It was a great night and yes Melissa, I'm still thinking about those potatoes!
The awesome family and friend support we have around us!
The beautiful weather we have been having, it allowed Lani and I to have a nice stroll around EPCOT (and when I say stroll I really mean super brisk walk so nobody stops to talk to us, especially during Food and Wine when 90% are drunk at 11am).
Buy One Get One sales, they rock my world.
Smiles in the morning and hugs before bed, it really makes my day.
The new special from Kathy Griffin, the woman cracks me up and she did not disappoint.
List is a little short this week, sorry my mind is just blank right now. I guarantee after I hit publish post 10 more things will come to mind.
Play along with Elyse at
Following Him!
**********************************************************
Here's some photos from our day at EPCOT
Have you voted today????