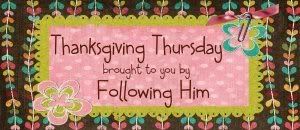 I missed last weeks Thanksgiving Thursday, and even though it was a crazy week I still have a lot to be thankful for. So here we go! This week I am thankful for:
Scott being the rock that he is and was during all the craziness of last week.
The support from our families, most especially Mimi and PawPaw for making it to our house in record time :)
Lake Sumter EMS, you guys/gals rock my socks off and I am eternally grateful for everything they did.
All the kind words from everyone during all the difficult times this past week.
The couple that was on a blind Myspace date last night at Devenney's. Seriously that was some quality entertainment and I will never be able to listen to Journey the same way again.
My parents. I really lucked out in that department :)
I know there is more but I am so pooped I cannot think of anything. Play along with Elyse at
Following Him
!