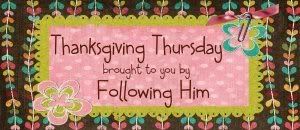 Christmas is just a short 15 days away! Clearly something to be thankful for! This week I am also thankful for:
This being the last week that Scott has his crazy schedule!
The funny things the kids have been doing lately, and how they both try to get away with touching the tree.
Mississippi State Cheese! For those of you not lucky enough to have Mimi and PawPaw order you the coveted Mississippi State Cheese, you are more than welcome to come over and try some.

*I cannot guarantee that there will be any cheese left
This photo:

It only being one more week until my parents, sister and niece get here!!! I just hope they don't bring any of that crazy Chicago weather with them!
Great friends! Ya'll are the best!

Great work opportunities! I got to talk to Rachel Coleman, the star and co-creator of Signing Time today! She's so sweet and down to Earth! Look for the interview this Monday on Multiples and More!
All of those men and women who have sacrificed being home with their families this holiday season to help defend us. I have a few friends overseas and I know they have not been home for Christmas in quite a few years.
Play along with Elyse at Following Him!