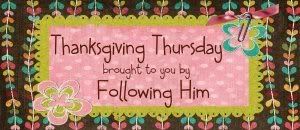 Getting to this post a little late, but glad I waited. This week I am thankful for:
Scott's stomach bug being over and for him not passing it to any of us. He was a good patient and remained in all the approved quarantine areas (I may or may not have threatened bodily harm if he left those areas).

All the adorable things that are coming out of the kids mouths. Plus all the hugs and kisses :)
My parents finding the vacuum seal bags that I love that were discontinued. Watch out world, my Mom learned how to shop on HSN.com
Mimi and Paw Paw getting some new Disney movies for the kiddos!
The great guys of Lake Sumter Fire Station 33 for flashing the lights on their trucks for the kids as they drove by at the grocery store. You guys are awesome, it made their day!
Scott dealing with Orlando Health today, had I dealt with them I would have probably jumped through the phone.
My cousin Debbie threatening to "whomp me upside the head" if I didn't write this post.
I would say play along with
Elyse
, but she's on Spring Break this week. But I'd love to read your lists, leave your links in the comment section!