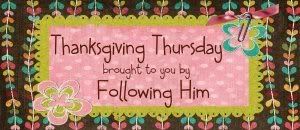 This week I am thankful for:
Scott taking the night off to turn the cribs into toddler beds so we didn't require any emergency medical services (more on that later...swoon!)
My kids teaching me patience. It's something I had very little of before they were born, and I'd like to think I have a whole lot more now.
Fantastic family all around us! There's a reason you all are here and we love each and every one of you!
A great partner, Lani, who without her this past year would not have been possible!
Lake Sumter Station 33, squad A (I believe? not that I'm a stalker). Saw them at dinner last night and could not be more thankful of everything they did for my kids back in November. Plus, they're easy (read very easy) on the eyes, so it made my meal just as nice.
My neighbors who have painted our house for dirt cheap! It looks awesome!
Melissa d'Arabian saying that she loved me, mainly because I actually read the press release.

Play along with Elyse at
Following Him
.