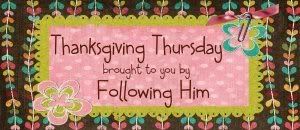 This week I am thankful for:
Scott being back on the day shift! Woo hoo!!! Oh, and even though he leaves early he still has coffee ready to go for me. How insanely awesome is that?! Cheryl is right, everyone needs a Scott in their life :)
The language explosion that is happening in this house! It seems like every time the kids open their mouths a new word is coming out.

All the awesome opportunities that have come my way recently.

My parents and all they've done for me these past 26 years and 364 days. Nobody could have asked for better parents!
Great friends and family all around us. You are all the best support system we could ever ask for!
My veggie garden still being alive and well. The fact I have not killed it yet is amazing.
Play along with Elyse at
Following Him
!