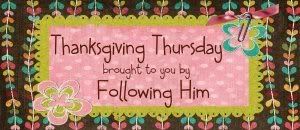 This week I am thankful for:
5.5 years with my amazing husband (1.5 not married, 4 married). I've met my match in every way. Love you!
Kids who can make me laugh when I need it most.
Snuggle time first thing in the morning with my Jilly. That is the only time she is really still the entire day and I love that 15 minutes.
Random kisses from Aaron throughout the day.
Great friends who have my back no matter what.
Amazing family no matter how close or how far.

For Shelby's sweet words today!

What you have to do is write 10 things about yourself that people don't know and then pass it on. Here we go!

I love going to the gym strictly for people watching purposes. I find there is no better place to people watch than a gym.
I'm really into genealogy. I've been working on my family tree for a few years now and think it's the perfect excuse to take a trip to Poland. Most people want to vacation in Hawaii, I want to go to Poland to dig through stacks of old papers.
I can poorly speak Spanish and Italian. I was actually going to minor in Italian.
I was a huge *Nsync fan back in the day and feel that it is some kind of divine intervention that I met my husband who went to school with Joey Fatone. I'm literally counting down the days to their reunion.
If I'm in a cruddy mood I listen to Journey's "Don't Stop Believing" or Harry Belafonte's "Jump in the line (shake senora)". Both are instant mood lifters.
I am not a bird lover by any stretch of the imagination, but if someone was to mess with the ones that live in the tree in my backyard I would lay the smack down.
Before I met Scott I wanted nothing to do with guns, now I love going to the range and my weapon of choice is a .45

I've become more conservative since I had a family, not crazy conservative but not as liberal as I once was.

I secretly hope my kids will break my nose so I can get a nose job and it be covered by insurance.
I always saw myself as living in a big city but now would prefer to have a quiet house in the middle of nowhere on a lake.
Now here's who I'm passing it onto:

Thanks again Shelby!