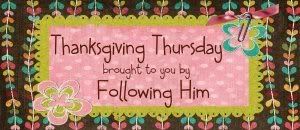 This week I am thankful for:
Scott, especially when he braved the giant wasps nest that was left behind by the tree guy (seriously, it was the size of a softball).

Aaron and his sense of humor. He truly is a funny kid that may already have impeccable comedic timing.

Jilly's story telling. She "reads" me a story everyday in the bean bag chair.

My family, near, far, wherever you are (insert Celine Dion heart pounding song here).
My friends who can get me to laugh at pretty much any given time.
A still working dishwasher!
My me moment that I've made for myself everyday that includes a cup of green/white fusion tea.
Play along with Elyse at
Following Him!