It's been a crazy week over here, or at least it seems that way. The first couple of days were strictly for recovery and really weren't as bad as I thought they would have been. I actually got to see video of myself crossing the finish line and all I can say is I really need to work on my form. I think I run slightly similar to Phoebe from friends. I mean not with the hands all over the place, but yeah, it's not pretty.
Wednesday we went to Epcot to check out the Flower and Garden show. We even had a chance to go into The Seas to see the fish.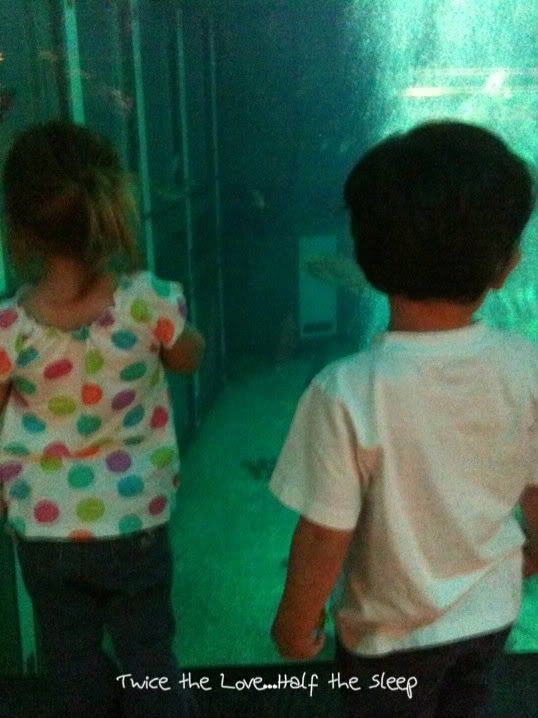 When we went back into the countries the kids were excited about all the plants that were made to look like Disney characters. Jill about lost her mind when we got to Germany and she saw this:
Now yes, this is awesome but when you are flying solo with one kid that wants to sit and stare at the tower that also sings and has glowing hair (yeah thanks Disney) and one kid that wants to stare at the trains. These two things are feet from each other and you can see the tower from the train, but miss insisted on being in front of the tower. It was a short visit to Germany needless to say.
Yesterday I braved Publix solo with the kids. I never know about grocery shopping with them because the likelihood of getting a double cart is slim. Thankfully there was one left and believe you me it got a full wipe down since I just saw
an article
about how 72% of carts came back positive for fecal matter. *Vomit* The kids did really well in the store and actually picked out all of our produce. They really love the produce section, I'm pretty lucky. Aaron's only request was that we get watermelon and Jill wanted apples. If she had her way she would have eaten the apple in the store right then and there.
Around the time we got home Jill really started complaining about her ear so Scott took her to the pediatrician to have her checked out and yup, she has another ear infection. The doctor said some kids are just more likely to get them and at their age their ear canals aren't big enough to flush everything out fast enough and that's why it happens. So now we're on antibiotics for another 10 days, I'm just really lucky she is good about taking medicine.
While Scott and Jill were at the pediatrician I got to have some quality time with my Aaron man. We hung out in the backyard and spent most of the time sneezing because of the orange blossoms. He's such a riot though and such a toddler. We were "racing" each other from one side of the yard to the other and he would stop halfway because he was distracted by a flower or an acorn. Too cute!
Hope all is well with you and that you have a fantastic weekend! If you have a chance, please check out Scott's
St. Baldrick's page
.