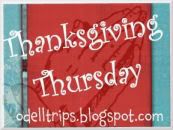 After a beautiful day at the beach, here is my list :) I am thankful for....
My babies being 10 months today! I can't believe it's been 10 months already! Time does fly when you are having fun.
That Aaron does not have a giant bruise on his head from the "incident" on Monday.

Mimi coming to the ER with me on Monday to help out.
(secretly) Being able to get a new table and chairs because of the "incident".
A great day at the beach with great friends and amazing weather, even though we had to pull out a muskrat in the end.

My new steam vac, finally I can have clean carpets and not have to pay an arm and a leg for it.
My new coffee pot. Can I just say it's awesome to have a cup of coffee and not have to pick grounds out of it?

I have some cute photos from today and will post them tomorrow. Hope you had a great day!