>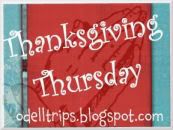 >
Didn't I just write my list for last week???? Oh well...here we go again! This week I am thankful for...
Scott and all that he does for us!
Two beautiful kiddos that always manage to make me laugh!
PawPaw letting me make his birthday cake today! You're gonna love it!
Both sets of parents and all they do for us.
The nurse today telling me there is no possible way I could have had twins because I don't look like I could. Totally made my day, which makes me wonder if they just say that for that reason...hmmmm
The manager at Sweetbay who has twins and always asks me how my kiddos are doing whenever I'm in there. It's nice to go to a store like that.
Steve Perry and Rick Springfield's insane fan base! I tagged them both in my post yesterday and got a ton of extra traffic from their fans. Awesome!
Naptime, what a wonderful time.
The truck not hitting Jenn and I yesterday on our way home from Winter Garden Village. Seriously, we are not allowed to ride in cars together anymore (read last Thursday to find out why).
That's all I got right now. Hope you are having a great Thursday!