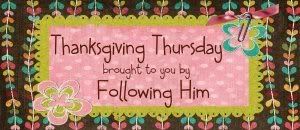 I'm think I'm finally out of my daze from the weekend. I'm seriously not as young as I once was. I forgot to do Thankful Thursday last week, so we have a lot to be thankful for. These past two weeks I am thankful for:
A great husband who busted his hump and worked 14 days straight so we can get the kids an awesome play kitchen for Christmas, among other things. It definitely sucked not having him home, but you gotta do what you gotta do, right?
Two adorable and hilarious children. Sometimes I wonder if they are possessed sent straight from heaven. They keep me entertained, that's for sure!
A great visit with my parents! I am so lucky that I have two awesome parents that were willing to come down and hang with the kiddos so I could go to my

MoM's

convention. Even though we have some bad habits to break now, it was a great visit and I am seriously so lucky!
Awesome in-laws! I really lucked out in this department. I usually hear horror stories about other peoples in-laws, but I'm really lucky.
A great and successful convention! It was my first convention, and it ran really really well! I learned a lot about the business side of

FOMOTC

and cannot wait for

Clearwater

in 2010!

All the great money saving tips everyone gave to me on

Facebook

yesterday! I saved almost $60 at the store this week. Woo

hoo

!
A great time at Mickey's Not So Scary Halloween Party! And a big thank you to all you adults that wore crazy costumes, you truly made my night :)
The lesbians that held hands at the airport across from my mom, and the man that wore women's heels and nylons to the grocery store. You ladies and gentleman gave some great stories to tell pretty much everyone I know, tears and all.
HULU

. You are a wonderful website, you truly are. For some reason my

DVR

did not record Modern Family last night, but you

HULU

, you have it for me to watch, and I thank you.
Door prizes. I won a bottle of Mad Housewife Merlot at the

FOMOTC

convention, I may just crack that puppy open tonight. I promise not to drink and blog, or tweet, or status update on

Facebook

(even though it would be HILARIOUS).

The Laurie

Berkner

Band. If you watch Nick Jr she's usually on in between shows, or on Jack's Big Music Show.

Every time

she comes on the kiddos stop dead in their tracks to watch her, and I will admit I find myself singing along....a lot. Plus Scott emailed them to tell them how awesome they are and one of their peeps emailed back and checked us out. WOO

HOO

! Thanks Katie for checking us out!
The fact that my daughter said her first swear word in the confines of our home, and not out in public. Sigh, I need to watch my mouth, and no I don't need a mirror.
Play along with Elyse at
Following Him
!